When I first got my '91 Base model Mariner Blue Miata, I had a list of things I wanted to do to it. I started with a 240W CD changer system.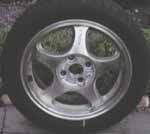 Then, I added some 15" Fittipaldi 500 wheels. The wheel/tire change turned out to be quite a headache, and after about 30,000mi, I returned to the stock steel rims - ugly, but trouble free.

I had performance mods in mind, but I had just stepped up from a 1980 Honda Civic to a brand new 1991 Miata, quite a performance upgrade right there. I decided that I could probably get in enough trouble with 116HP, and truly, I can.

Over the next 5 years, I bought a house (read- no car money), and did various low-cost things to the car:

Miata Club shift knob, I like it alot
Air horns- neat
Hella Headlamps, with the euro-pattern low beams, also much better than the stock equipment. These and the horns were a "car warming" gift from Dad. Later upgraded the H4 bulbs from stock 55/65W to 55/100W, can you say HIGH BEAMS! ?
G-Analyst, it's not really a mod to the car, and it wasn't really low-cost, but it is a nifty toy, and it gave me an objective viewpoint for what I and the car were doing. I used it for about 2 months & put it away, bringing it out when I make performance type changes to the car. When I first got the G-Analyst, I practiced a few (maybe a dozen) drag strip starts, got it up to a solid 0.5g all through 1st gear, by slipping the clutch the whole way. Perhaps that is why my clutch was almost gone at 48,000 miles. G-Analyst was traded for a GTech Pro (plus cash), now I can read 0-60 and 1/4 mile times with some semblance of repeatability.
Triangulating rear sub-frame brace - I think it was from Technosports, but I'm not sure. It noticably improved the vibration I was getting from the 15" wheels. I also believe it may have contributed to the demise of my stock muffler - mild interference between the brace and the muffler, combined with extreme heat from spirited driving may have caused the driver side muffler hanger to snap off - the $10 Meinike braze-on job seems to have loosened one of the baffles, which now makes an awful racket when hot - again, due to spirited driving.
Splitfire plugs, I think they made an improvement, though I want to get a set of new NGKs and do an objective comparison someday. Moroso Motorsports Park looks like a great place to do this kind of testing. Changed to Bosch Platinums, Platinums got munged up after 15Kmi, changed back to Splitfires - I think a plug is a plug is a plug, though the Platinums proved not to be self-cleaning like they claimed to be.
Timing advance, here, I believe the Splitfires may be working against me, I can't get much more than 13 degrees BTDC without pinging on 92 octane gas. Call me sick, but something inside me just felt "wrong" about putting "cheap" gas in my baby, advancing the timing gave a bit more pep, and a reason to buy premium- sad, but true. I also only drive 10,000 miles per year, so this is a matter of maybe $100/year.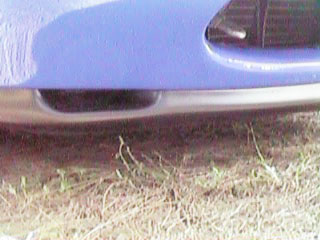 In 1996 the Miata was paid off (simultaneously with the student loan), rather than a new car, or saving for retirement, I think it's time for some serious performance mods. The October 1990 issue of Sports Car International featured a Cartech Turbo Miata, that is essentially what I've wanted all along, and that's what I'm doing now:
Front Airdam- There's a fairly good installation description at , although I will point out that if you drive the car up on ramps, then install the airdam, you'll need to jack it up off the ramps to get it down without tearing off your new airdam. Luckily, I had the airdam in place before getting out the ramps, so I didn't make this mistake. I wish I'd done this a long time ago - about $120 from Roebuck Mazda, and the car is much more stable at highway speeds. In black, it is hardly noticable, which is how I like it.
O.K., five years after buying the car (one day after taking the airdam picture), I finally got around to removing the front "fangs"; if I had realized how heavy they are I'd have done this sooner. I used to use them to tie on my lightweight car cover. I haven't used that cover in four years, so I guess I can take off the hooks now and get all those damn Miata clubbers off my back, everytime they see the car, the first thing they look for is whether or not the tie-down hooks have been removed, sheesh! A few days later, I removed the rear hooks for good measure. They're much easier then the fronts. Altogether, the hooks weigh about 6 lbs, about the same as a gallon of gas.
Brake system upgrade - the old pads were gone anyway, so why not do it right?
Centerforce Dual Friction clutch- this one will also get more detail later, but for now, let's just say I'm glad I'm breaking it in (450 miles) without the turbo installed. I don't know if I'd have the self-control to be able to drive without using full power for that long!
Rollbar more than just a saftey item, it really stiffened up the '91 chassis.
Turbo - a System IV from Cartech and the Dealer Alternative - the ultimate exhaust system replacement.
Wheels & tires, again.
94+ Torsen limited slip differential. This involved not only the differential, but driveshaft and halfshafts as well.
Flying Miata sway bars w/ urethane bushings (stiff hole in front, middle hole in back)
Tokiko Illumina 5 position adjustable shocks (3-medium in front, 2-soft in back), this is a mild understeer setup, which I (and 9 out of 10 911 Turbo owners) prefer for day to day driving.
AnaLink is a data capture, graphing and analysis program that works with the Link ECU and a PalmPilot PDA. "Huh" you say? The manual shows what it does.
Lowered seating position a no-cost modification that makes the Miata fit better to my 6'1" frame, why did I wait so long to do this?!?
The following are yet to be done:
Speedometer calibration, it's only reading 5% slow, hard to justify possibly screwing things up for 5%.
And these things I haven't decided if I'm going to do or not:
Racing seats. I love the seats that came in the 911 speedster, especially the color-keyed seat belts. Of course, my 5 point harness will be electric blue.
The custom multi-color paint job isn't happening, I got a plain old repaint as part of collision repair from a hit and run accident, a stolen Mustang 5.0 knocked me into a bus :(

The Miata Features Table makes a nice baseline reference for what Miatas have come equipped with over the years.