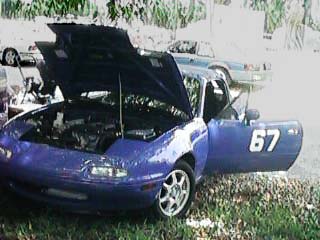 6 July 1997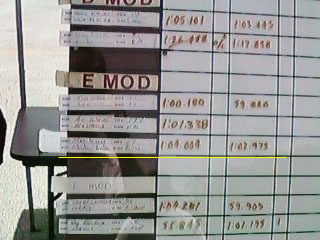 Did anyone ever mention that it is HOT in Miami in July? Finding, and keeping in the shade was the main order of business today. Not to bitch too loudly, but the SFSCA organizers managed to delay the start until around 11:00, and then their system of paid course workers took a nice long "lunch" between the second and third runs. A "popular" idea among the hundred or so drivers who were roasting while the workers took their (much deserved) break was that we might have twice as many workers who volunteer for half a day, rather than sitting around while these guys eat lunch. Pardon me while I stumble off my soapbox. Oh, before I go, everyone I talked to today hated the pivot cone, everyone. So why was it there?

About the race, I had fun. I also got proof positive that I need to install my limited slip differential. First run was good, but a bit tentative. Second run was better, even though I botched the 1-2 shift off the start. Third run I got major wheelspin through the opening obstacles, but rather than back off and get it under control as I did in the first two runs, I kept my foot in it just to see how it would play out. There's a bright orange stripe on my right rear sidewall as evidence of the results &ltgrin&gt.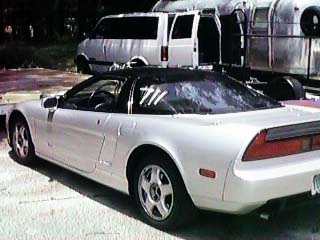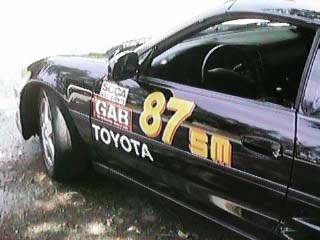 With the turbo, I can choose to compete in either E-Modified, with a prepared Acura NSX, and whatever full blown racecar Al Wicht shows up with - or in Street Modified, a local class with about 6 competitors today, including a 300HP 18psi boosted MR2. Hmmmm.... I class myself differently, I look around for people who are actually racing on street tires, Yokohama A509s seem to be the favorites - I was running on the Dunlop SP8000s today, though looking at the wear they sustained, I think I'll switch over to the cheaper 509s in the future. Compared to that field, I did rather well with my 1:02.975. For reference, Darrin Disimo was turning in mid 50s on BFG R1s in his B Stock Miata - but with Darrin it's not just tires, he's a hell of a driver too.
---
Photo Album: